The way people enjoy entertainment has changed drastically in the past decade. Renting movies, buying CDs and watching TV shows on cable used to be the standard. Nowadays, it's all about streaming, increased convenience and getting faster access to exclusive content. Entertainment buffs are no longer OK with waiting for their entertainment fix — they want everything right here, right now.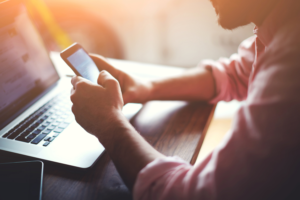 The immediacy of streaming is, therefore, undoubtedly one of the biggest reasons for streaming's newfound success. No matter what you're in the mood for, you can quickly access it directly from your smartphone, tablet or computer, without ever having to leave the comfort of your own home. You can also always take it with you, no matter where you go.
With every day that passes, there seem to be more and more companies jumping in on the streaming game, trying to offer consumers a superior experience and features they've never seen before.
Founded by Canadian entrepreneur Philip Keezer, Playster is trying to shake up the streaming industry in a major way by uniting books, music, movies and games in one service. By paying $24.95 per month, users get unlimited access to Playster's varied catalog and are able to stream as much content as they want, either through the app or via a web browser, without having to worry about any kinds of restrictions.
Another way the service is trying to stand out in the marketplace is by erasing the importance of genres. Instead of only sorting content the traditional way — by genre — Playster also offer mood-based sorting. This innovative feature is not present in any other platform and is quite interesting! What inspired Keezer to create such a unique way of sorting content?
Well, "genres were created so that people knew where to look in a book or record store – even today, it gives book shoppers a starting point when they enter a brick-and-mortar store instead of sifting through thousands of books looking for something new,".
"It's one of the most basic, regimented systems of finding new things, and I would argue that it's become almost completely irrelevant now that entertainment is so accessible. Just think about it: Between the influx of genres – new (weird) book genres are popping up all the time – and the fact that a lot of today's best music, books and movies pull from more than one genre, trying to classify content using such rigid methods certainly falls short."
Mood-based sorting is also a great way to discover new content you might otherwise have overlooked. When we spoke to him, Philip Keezer brought up another interesting point: "When you're not sure what you want to read, watch or listen to, picking a specific genre to browse really narrows things down. I once read a quote that said "genre is a bookstore problem, not a literary problem" and that's when it really hit home for me how irrelevant the whole concept of genre has become."
"All of a sudden, your options are narrowed down to only include titles that fit into that one genre, but what about all the content that's on the edges, or things that overlap across genres? Where should these be classified and who would ever find them?" asks Keezer.
With Playster's innovative mood-based sorting, uncovering new artists, authors, and directors — you name it — has become easier than ever before. Instead of searching for something specific or selecting a genre, users are invited to pick what mood they're in and the app will present them with carefully chosen recommendations and curated playlists to match that mood.
Whether you're feeling goofy or romantic, whether you're in the mood for something thought-provoking or foreign, Playster has something that will satisfy your entertainment craving and the sky's the limit. Really, there's something for every age and every occasion.
"Our goal is to make entertainment inclusive and accessible and we think mood-based sorting is a big part of that," says Philip Keezer. "By getting rid of rigid classifications, we're able to focus on what's really important: good quality content."
Enjoy online casino nz and have a fun experience.